Rutland and Melton MP backs 'street clutter' proposal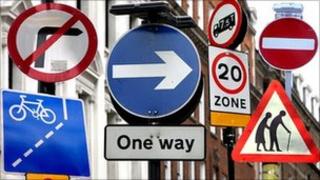 The MP for Rutland and Melton has been supporting a new government proposal which gives communities the opportunity to clear up unwanted "street clutter".
Conservative Alan Duncan said a "disgusting array of signs" clustered together were a national disgrace.
Under the Localism Bill, if a minimum of 21 people oppose them, their plans will be put to a local referendum.
Kevin Clinton, from the Royal Society for the Prevention of Accidents, said signs were there for safety reasons.
"We must remember that road signs are there to protect our safety when we are out on the road," he said.
Residents will have the power to remove road signs, bollards, hoardings, railings and traffic lights.
Mr Duncan, who has recently published a pamphlet called 'PolesApart - how to get rid of a million useless road signs', said: "I feel very strongly about it so I would take down all of the cycle path signs, but keep the cycle path.
"I would also remove many of the triangular signs, which warn you of things you can see anyway - like traffic lights ahead," he added.
Quorn parish councillor Terry Stirling said there were many signs that were "not wanted in the village any more".
"We had signs put up that we didn't want, we tried to get signs taken away that have no use any more and it proves difficult," he said.
Mr Stirling said the parish had been trying to remove a particular sign that advises motorists of a new traffic light sequence, which was installed six years ago.
'Overpower the streets'
"It's now completely irrelevant, it's clutter and it's not wanted in the village any more," he added.
Barry Pritchard, from Leicester City Council, said: "We need signs to make sure motorists can get to where they need to get to and understand how they can use the roads.
"But we need to make sure we don't overpower the streets with too many signs and we make sure the signs are regularly reviewed, so any that are redundant are removed.
"This does happen over the years, but they do need regular inspection and correction," he added.
Mr Pritchard said there could be a demand for the public to be a part of the Localism Bill, but believes it could "come down to money in the end".