Leicester factory raided in Border Agency probe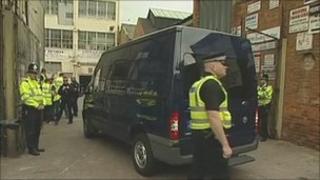 More than 120 officers have raided a factory unit in Leicester city centre in an operation to crack down on illegal workers.
Eighty people employed by several textile companies at the former Imperial Typewriters building on East Park Road were questioned.
Thirty-two, thought to be from India have been arrested, while the others were released with no further action.
The raid, codenamed Operation Serbal, was led by the UK Border Agency.
Officers from Leicestershire Police, HM Revenue and Customs, the Department for Work and Pensions and Trading Standards were also involved.
Interpreters used
Of those arrested, 26 are men and six are women. They have now been taken to a local police station for further checks and questioning.
After the raid, it emerged that the fire service was called after reports some workers were trapped in a lift inside the building.
In November, the old Imperial Typewriters factory featured on a Channel 4 Dispatches programme called "Fashion's Dirty Secret", in which an undercover reporter exposed a number of poor working practices.
Information gathered as part of the programme played a "significant part" in the way the UKBA gathered its intelligence for the raid, which had been planned for three months.
Simon Excell, UKBA deputy director, said: "We've gone in with warrants this morning, secured the premises - there were a lot of individual units within the premises themselves - it's taken us a while to gain access, sometimes we've had to use a method of entry to gain access."
The building contains 21 business units, many of which were operating legitimately, stressed the agency.
Mr Excell said people from about a dozen units inside the building were questioned, some making use of the 15 interpreters who had accompanied officers on the raid.
A number of those attempted to hide when officers went in, while others accepted their presence, he added.