Leicester Ladies hockey player aims for European cup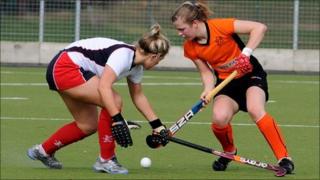 A young Leicester Ladies hockey player is hoping the club will be the first English team to be European champions.
Lauren Turner, 21, who is one of the youngest team members, said even though the club had to first beat Slough in the semi-final on Friday she was hopeful they can "go on and win it".
The winners of the EuroHockey Club Champions Cup game will face either Den Bosch or Laren, both Dutch teams, in Sunday's final in the Netherlands.
The club has reached the final twice.
Four years ago the Leicester team lost 2-1 to Den Bosch.
Going for gold
Miss Turner, who has compared the European championship to the Champions League in football, said: "Our aim at the start of the year was always to be champions of Europe and everything has been building towards these games.
"We topped the England Premiership Hockey League again this year and once again missed out in the play-off final but to get to the European final and hopefully come away with a gold medal would certainly make up for that."
The forward and midfielder, who has been training with the squad since she was 15 years old, is "excited but a little nervous" about taking on rivals Slough, but hopes she will "be at the top of my game" for the semi-final.
"We know Slough well as we play them in the domestic season, it's always a tough and close game against them," she said.
"We lost to them in the English Premiership Final two years ago, but hopefully we have learnt from the mistakes we made then and, if we play our game, I'm confident we can progress to the final."
Miss Turner, who has played in the first team for three years, added: "We have the players to go on and win it."