Oakham level crossing 'cheats' targeted in awareness day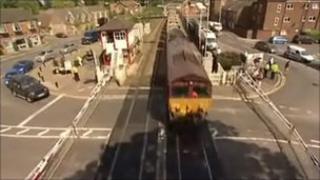 Drivers ignoring red lights at a level crossing in Rutland have been warned it is only a matter of time before there is a serious accident.
There have been 25 recorded incidents at the crossing in Oakham over the past two months and British Transport Police thinks the real figure could be higher.
Now officers are spending a day at the crossing warning people of the dangers.
Insp Mark Clements said: "It is only a matter of time before someone is badly injured or killed."
The move is part of an International Level Crossing Awareness Day on 9 June which has 40 countries taking part.
'Smash into barriers'
Insp Clements said: "Those who flout the law and ignore the crossing signs can expect action to be taken against them, which could be in the form of a fine or points on their driving licence."
Richard Pedley, community safety manager for Network Rail, said: "We know incidents of misuse at crossings are massively under-reported.
"There are numerous anecdotes about drivers trying to beat the red lights and get over Oakham crossing after the warning has started.
"Motorists who jump the lights or smash into barriers as they try to beat them coming down can cause great disruption and cost to the network."
Network Rail is working with sat-nav maker Garmin to develop a new application which alerts drivers when they are approaching level crossings.