Leicester shoelace designer wins top fashion award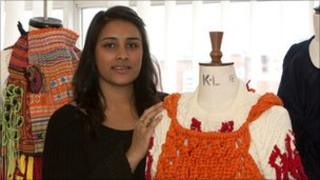 A Leicester fashion student has won national recognition for her colourful textile designs, which include knitwear garments made from shoelaces.
Sarika Pancholi, 22, from Rushey Mead, was awarded the David Band Textiles Award following her catwalk show at Graduate Fashion Week in London.
The collection was created as part of her De Montfort University degree.
Ms Pancholi was recently named as one of Britain's top five up-and-coming artists by designer Zandra Rhodes.
"It's pretty amazing. I feel privileged that people do appreciate what I do," she said.
"Because it's not ordinary, it's out the ordinary, and people do think I'm a bit bizarre and bonkers thinking the way I do."
With the collection, she aims to combine her Indian culture with traditional British knitwear techniques.
Everyday items, including shoelaces, straws, traditional Indian bangles, lollipop sticks and whistles are incorporated into the designs.
Ms Pancholi said her parents were really proud of the positive reaction her work had received.
"An Asian family don't really understand where this fashion industry is going to take you, but it's helped me explain to my parents what I do and what I'm going to get into."
Ms Pancholi is now preparing to begin an internship as a knitwear assistant for River Island.