Parents' fear over treatment centre in Leicestershire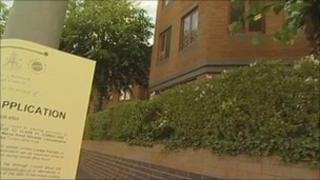 Parents have expressed their shock that a treatment centre for alcoholics and drug addicts could open up just yards from their children's primary school.
Hinckley and Bosworth Borough Council said the centre, Florence House, would not pose any threat to the public.
But parents at St Mary's C of E Primary in Hinckley said it was in the wrong place and some have threatened to move their children to other schools.
Annie Steele of service provider Swanswell said nobody should worry.
"It's not going to be a dangerous environment for their children because people are coming to get help," she said.
"People are coming to us, we know their names, they're coming for a service and they want to change."
Duty to help
One mother said: "I'm really concerned about it actually, I would think of moving my boys from this school if (the centre) opened up here."
Another woman added: "I think, because we're such a small town, it's quite difficult not to have services that are actually close to schools."
Hinckley and Bosworth Borough Council stressed it had a duty to help.
Sanjiv Kohli from the local authority said: "The service that will be offered here will be in a controlled environment.
"And certainly the council feels that's a lot better than having needles casually disposed outside of the organisation."
The public consultation finishes at the end of the month and if the plans are approved the drugs treatment centre could be up and running within weeks.