Leicester Caribbean Carnival will have no procession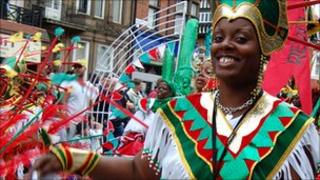 Leicester's Caribbean Carnival is to go ahead - but without a procession around the city centre.
Carnival chairman Dennis "Sugar" Christopher said they had dropped the parade of 1,500 performers because there was not enough money.
The community carnival, one of the biggest of its kind in the UK, will be held on 6 August at Victoria Park.
The festival went ahead with the parade in 2010 despite failing to meet the necessary £200,000 to host the event.
However, this will be the first time in the event's 26 year history the carnival will be held without a parade.
Carol Leeming, who takes part in the celebrations each year, said without the street procession this year's event would not feel like "a fully fledged Caribbean Carnival".
"For everyone to be involved in that huge fantastic spectacle is what Caribbean carnival is all about," she said.
Mr Christopher said: "I'm disappointed we couldn't do the city centre parade, however there is a serious financial knock-on effect.
"Our objective for next year is to have both a park and city procession, especially as 2012 will be special because of the Olympics."
He said dropping the procession would save the expense of providing barriers and paying for the clean-up along the route afterwards.
In May, the committee expressed a desire to relocate the festivities to Humberstone Gate, in the hope of attracting additional financial support from businesses.
Up to 100,000 people attend the event each year. The event was cancelled in 2006 due to insufficient funding.
The carnival currently receives money from Leicester City Council and the Arts Council, with additional support from organisers' own fundraising.