Leicestershire WWII veteran raises Armed Forces flag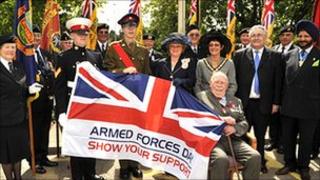 A 92-year-old Leicestershire veteran has raised a special flag ahead of Armed Forces Day on Saturday.
John Sheppard, who was awarded a medal for his bravery during World War II, attended a ceremony at County Hall to support servicemen and women.
He said they were "rightly deserving of our thanks and this commemoration".
A flag was also raised at Leicester Town Hall and events have been taking place across the country to celebrate the armed forces - past and present.
'Leicestershire Tiger'
Mr Sheppard, who served with the Royal Leicestershire Regiment, said it was a "great honour" to be asked to raise the Armed Forces' flag.
"All those men and women who have served or are serving in the Armed Services are a great source of pride to us all," he said.
Jackie Dickinson, chairman of Leicestershire County Council, said: "John typifies all the best qualities of a true gentleman and a Leicestershire 'Tiger'."
Mr Sheppard, who is still president of the British Legion in Rothley, was one of 1,900 WWII veterans to be awarded the Distinguished Conduct Medal (DCM).
His leadership and determination was recognised after he held off a German battalion with only hand-held weapons and knocked out two tanks with an anti-tank rifle he had never fired before.
The war hero was captured and remained a prisoner of war for the rest of the conflict.
The flags will fly until dusk on Saturday and a special Armed Forces Day service will take place at Leicester Cathedral.