Leicester mayor will allow Royal Lancers' city parade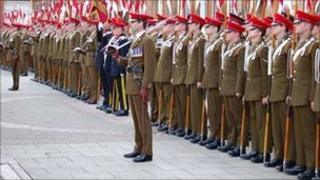 The mayor of Leicester has reversed a decision which prevented soldiers from the 9th/12th Queen's Royal Lancers from parading through the city.
But the city council said it could not accommodate the request because of the authority's relationship with the Royal Anglian regiment.
Leicester's elected mayor Sir Peter Soulsby said the council's decision was wrong.
The regiment returns from a six-month tour of Afghanistan in the autumn.
"I think the people of Leicester are enormously grateful for the service the brave men and women give on our behalf," said Sir Peter.
"I think the council ought to reflect that gratitude by giving everyone the opportunity to thank them for all they do for us by allowing them to hold a homecoming parade in our city."
In 2009, thousands of people turned out in Leicester to welcome the regiment, whose headquarters are in South Wigston, back from Iraq.