Rutland beekeeper collects over 50 swarms in one month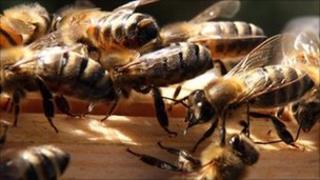 A Rutland beekeeper who has collected over 50 bee swarms in a month has said it is a good sign for the population.
Dean Roizer, 47, from the Rutland Bee Keeping Association, believes bee swarms in June have more than doubled because of the warm weather.
Last June he picked up fewer than 20 bee swarms in the county and a total of about 50 between April and June - compared to 70 swarms this season.
He said swarming was a "natural duplication" of the honey-bee colony.
"When the hive gets a certain size the older worker bees leave with the queen and they leave behind the younger bees with a new queen, so you end up with two colonies."
'Massive bee ball'
Mr Roizer, who has been keeping bees as a hobby for seven years, said the swarming bees were not dangerous, "just interested in finding a new home".
Kirsten Maclean, who works in Oakham, said shoppers were faced with a "massive big ball of bees" on Friday.
"Dean, the bee man, came with a box and put it next to the swarm," she said.
"It was amazing to watch, the bees just poured into the beekeeping box and it was cleared in about 15 minutes.
"People were wary because there were quite a few bees flying around, but no-one got stung."
Mr Roizer added that this month he had collected about 20 prime swarms which each contained between 15,000 to 20,000 bees.
"The prime swarm is when the original colony, which could have up to 60,000 bees, is dividing for the first time and it's been a busy month for this."
He adds the thousands of bees to his 50 hives or uses them to teach beekeeping.