Glenfield campaigners raise 100,000-signature petition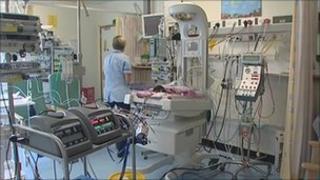 Campaigners fighting to save a children's heart unit in Leicester are taking a 100,000-signature petition to Downing Street.
The centre at Glenfield Hospital is one of several across England under threat as part of a government review.
Members of the charity Heart Link, which helped organise the campaign to keep it open, say the plans could have a "tragic" impact on young patients.
A public consultation on the unit's future ends on 1 July.
A national review of children's heart surgery is taking place amid concern that expertise is being spread thinly over too many units.
At least four of the eleven specialist centres across the country face the threat of closure.
Necessary change
If the Glenfield centre is shut, parents from Leicester could have to travel to Birmingham or London for surgery.
The government has said change is necessary in the provision of heart care.
The review, set up by the National Specialised Commissioning Group, has recommended a minimum of four surgeons per unit, which means at least four hospitals will stop carrying out operations.
A final decision will be made in the autumn and surgery could stop at the affected units by 2013.