Pig power returns to restore Beacon Hill Country Park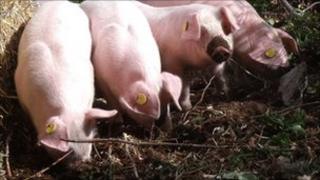 Seven rare breed pigs have returned for a second year to help restore heathland at a Leicestershire beauty spot.
The three-month-old Welsh pigs are helping to clear unwanted species such as bracken, sycamore and birch scrub at Beacon Hill Country Park.
Last year the pigs ate, rummaged and turned over soil for four months - leaving only clumps of gorse.
The park already has cattle which graze the site and a pair of alpacas to protect the sheep.
Byron Rhodes, Leicestershire County Council cabinet member for country parks, said the real-life rotavators "proved to be very effective" in 2010.
"The work they do help provides an excellent opportunity for the resident seed bank of species such as heather, bilberry and gorse to germinate."
Rangers are hoping the team of pigs, which has again been borrowed from Brooksby Melton College, will help clear about an acre of land.
Last year, eight pigs cleared over half an acre of field at the Leicestershire country park.