London 2012: Leicester firm supports Somali Olympic team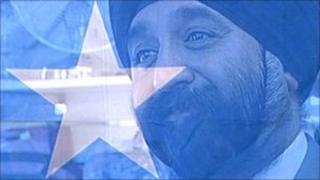 An African Olympic team who say they have to dodge bullets to get to training are to get support from a Leicester company.
Kulvinder Sethi, who runs an electrical firm, hopes to make life easier for the Somali athletes by sponsoring them.
The country has been racked by a 20-year-old civil war between the government and Islamist extremists.
Mr Sethi, who runs Anand International Ltd, said they should be supported to make Somalia "proud".
'Road of death'
"Most companies would like to sponsor high profile teams of powerful countries, but I believe that there are countries which are more in need of support," he said.
"The athletes have this one great opportunity to stand, compete and represent their country, but in order to do this they need a helping hand."
The businessman said the Olympians, who have "nothing at the moment", have been forced to travel along the "road of death" - the main road through the capital Mogadishu.
"Not only are they training without shoes in extreme heat, they're dodging bullets - one of them even got shot," Mr Sethi said.
Saneey Mohamed, from the Somalia Olympics Committee, hopes the new sponsorship deal will allow more Somali sportsmen and women to join the team.
"We have 300 athletes and we're trying to get about 1,500 to compete in London 2012," he said.
Leicester student Mohamed Isak, 20, who has trained for four years as a middle distance runner, hopes to be one of those extra athletes.
"It would mean absolutely everything to me and the Somali team as well - I've trained hard for the Olympics next year," he said.
Mr Sethi, who also funds a local cricket and football team, hopes to persuade other businesses to join him in supporting the Somalians beyond 2012.