Warning over 'misleading' doorstep clothes collections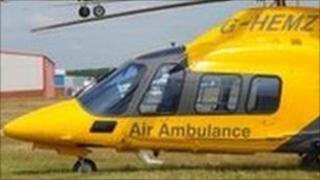 An East Midlands air ambulance service that relies on donations is warning people about "misleading" used clothing collections.
The Derbyshire, Leicestershire & Rutland Air Ambulance said its supporters should "remain vigilant".
Collection bags are being posted through doors asking for clothing, accessories and phones to be donated to an "air ambulance service".
But the money will not go to local air ambulance services, a spokesman said.
In similar cases involving bogus collections, Trading Standards have advised residents to be wary about doorstep appeals.
Officers have advised donors to make sure the firms are collectiong for who they say they are.
Catherine Foster, senior fund-raising manager for the service, said that "a misleading clothing bag collection company is operating in the area".
"As a registered charity we rely on voluntary income to keep us flying and saving lives and it is upsetting that this company seems to be confusing people over who they are donating to," she said.
She said anyone who was unsure should check for a valid charity number.
The air ambulance needs to raise about £1.7m a year to support its rescue service.