Leicester dairy boss to drive milk float to Land's End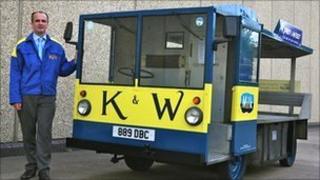 The boss of a Leicester dairy is preparing to drive an electric milk float more than 300 miles to Land's End for charity.
Graham Smith, managing director of Kirby & West, expects the journey from the company's Leicester depot to Land's End in Cornwall will take five days.
The milk float will require a seven-hour charge after every 40 miles and has a top speed of 13 mph.
Mr Smith plans to start his challenge on 12 September.
The drive forms part of this year's Thomas May Executive Quest - an event which challenges 50 leaders from Leicestershire and Rutland companies to undertake various bizarre fundraising tasks.
All money raised is donated to local charities LOROS and Prostaid.
Kirby & West cover 93 milk rounds in the county, with 70 of these covered by their in-house built floats, some of which date back to the 1950s.
The float Mr Smith will use was designed by his grandfather.
"They're cheapest, they're easiest to use, they're the quietest around the residential streets and they're iconic as well," said Mr Smith.
But he said the float may not be the most comfortable ride over 328 miles with no suspension and solid rubber tyres.
"Every pothole you hit, you feel right through," he said.