Six Hills fatal road crash witness sought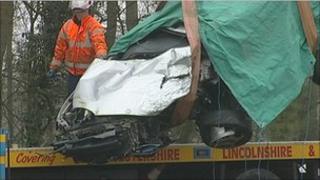 A key witness to a fatal road accident in Leicestershire is being sought by police.
A 44-year-old man died when four vehicles collided on the A46 near Six Hills just after 0500 BST on 16 March.
Police said they had spoken to a number of people in the area at the time and several had mentioned a white van.
Officers have now appealed for the driver of the van to come forward as they may have important information about the crash.
The collision involved a grey Audi A3, a silver Mazda MX3, a black Volvo S40 and a blue Peugeot 406.
James Richmond, 44, of Groby, Leicestershire, received fatal injuries and four others involved in the collision received serious injuries.
Det Con Paul Bingham said: "One of the cars, the Audi, was travelling southbound on the northbound carriageway at the time of the collision.
"I hope that this significant piece of information will be enough for the driver of the white van to remember the incident and come forward."