Appeal to protect rare meadow in Leicestershire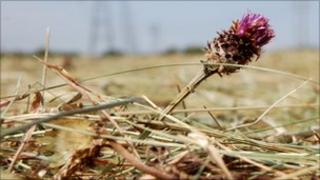 Conservationists are appealing for financial backing to help protect a rare Leicestershire landscape.
Leicestershire and Rutland Wildlife Trust hopes to "expand and enhance" its 94-acre nature reserve on the outskirts of Loughborough by 19 acres.
The meadow is one of only about 20 of its kind remaining in the country and features a rich diversity of wildlife.
The trust said initial response to the appeal was encouraging, but a further £20,000 was needed to secure the site.
The land is a lammas meadow, an area of land subjected to a highly organised form of management dating to the 18th Century.
The land was once divided into small strips marked with a post or a stone, some of which still remain at the Loughborough site.
Traditionally hay was taken from the meadow in June, and from 1 August- known as Lammas Day - strip owners could graze their animals on the land.
'Hidden gem'
Trust director Simon Bentley said it hoped to return the 19 acres, which has been intensively grazed by horses in recent years, to this more traditional form of land management.
Much of the meadow is designated a Site of Special Scientific Interest (SSSI) and is home to a variety of wildlife - blooming with wild flowers in the summer months.
Mr Bentley encouraged walkers to explore "one of Leicestershire's hidden gems", while remaining aware of the sensitivity of the site.
"There's a tranquillity about it that's only occasionally interrupted by a car or a plane overhead," he said.