Golfer Paul Broadhurst's trophies stolen in burglary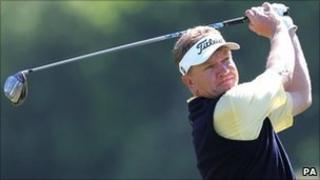 Golfer Paul Broadhurst said he is devastated thieves have stolen irreplaceable trophies during a break-in at his Leicestershire home.
The former Ryder Club player was targeted by burglars who broke into his house in Fenny Drayton, near Hinckley, on Thursday afternoon.
They stole trophies he won at the Portuguese Open in 2005 and 2006 and custom made golf clubs.
The thieves also stole a Rolex watch, a car, jewellery and digital camera.
Mr Broadhurst said he was particularly keen to get his trophies returned.
'Irreplaceable memories'
He said: "They're worth nothing really. It's just a momento of winning the Portuguese Open in 2005 and 2006. I'd like them back. I want my golf clubs back too.
"They don't make them anymore, I can't replace them.
"An amateur golfer can pick one up off the shelf, but for me it's like a snooker player having a new cue, it's takes time to get used to them."
Pc Andy Massey, of Leicestershire Police, said: "The victim is extremely upset by the incident, particularly because irreplaceable memories and trophies won by him were taken.
"The incident happened in broad daylight and a significant amount of property was taken from the property.
"I hope that these two factors will help witnesses to identify the suspect or suspects."