Leicester City Council takes delivery of grit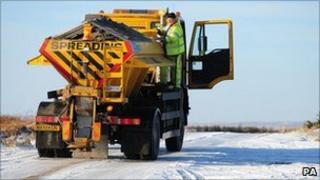 Leicester City Council is starting to take delivery of grit in preparation for next winter.
It currently holds about 3,000 tonnes of salt - slightly more than was in stock at the start of the previous harsh winters, the council said.
The supplies, which cost £55,000, should be sufficient to deal with any harsh weather.
The council has also drawn up a salt conservation policy to ensure urgent gritting is done if stocks run low.
Councillor Rory Palmer said: "Leicester has suffered three particularly harsh winters lately, which each meant round-the-clock work by our gritting teams to ensure the city's main routes remained open.
"We managed our supplies well to ensure we didn't run out of salt, and by renewing our stocks early in the year, we ensured we were able to buy sufficient supplies to see us through if this coming winter turns out to be another harsh one."