Leicester NHS staff consider no confidence vote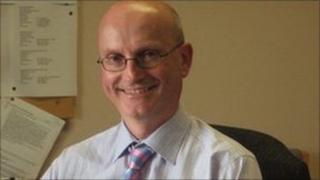 Staff at Leicester's hospitals are considering a vote of no confidence in the senior management team over a £7m overspend, the BBC has learned.
Malcolm Lowe-Lauri, University Hospitals of Leicester NHS Trust's chief executive, emailed staff in June saying they might not be paid in July.
Staff were reassured this would not happen but managers confirmed a further £1m overspend for last month.
A consultant, who did not want to be named, said it was "alarming".
Adrian Morgan, from union Unison, which represents staff at Leicester's three hospitals, said staff were "surprised" and "greatly concerned" about the financial situation.
"Our members were concerned they wouldn't get paid in July and August but were reassured this wouldn't happen.
"Then they hear even more money has to be saved and there may be redundancies. The management needs to be challenged and needs to be more open about what it's doing.
"We would back our members if they tell us they wanted a vote of no confidence, we will support them with what they want to do," he said.
No comment
Keith Vaz, MP for Leicester East, said he was very concerned about the trust's growing debts.
"I can't believe, bearing in mind how we have to be very careful with what we have spent, how they have overspent," said Mr Vaz.
"We need an explanation as to why there has been this overspend."
Despite repeated requests for a comment on a possible vote of no confidence, the hospital trust has declined.
In a previous statement, a UHL NHS Trust spokesperson said: "We have been encouraging ideas and thoughts from all of our staff, and all of those have been listened to by the clinical teams that are leading this work."
The trust needs to make savings of £158m over the next five years due to government spending cuts.