Leicestershire library and museums face hours cut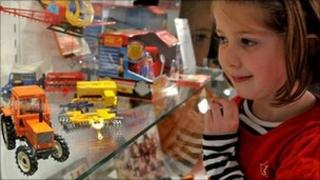 The opening hours of libraries and museums in Leicestershire could be cut as part of a £4m savings programme.
The county council said reducing the hours of 22 libraries, two museums and Record Office would save £443,000 a year - £1,772,000 over four years.
It also confirmed further savings would be needed and increased charges for some services were being considered.
Opponents said the plan would affect those who relied on libraries for educational and cultural needs.
Under the plans, the Conservative-led authority said it would not close any libraries but about 20,000 opening hours would be cut from April 2012.
Winter closing
Officials emphasised the new proposals reflected residents' comments during the consultation period.
Councillor David Sprason, cabinet lead for adults and communities, said they had found the best arrangement.
"It's about maintaining the opening hours when people actually used the services and closing them when people didn't use them," he said.
Tony Church, from Leicestershire Against the Cuts, said: "Libraries are not just for recreation they're a cultural and educational facility and a reduction in opening hours will affect people who might not be able to afford expensive entertainment but rely on libraries."
Melton Carnegie Museum, which had a £1m refurbishment last year, is set to close from mid-December to mid-January, and on Mondays and Sundays throughout the year from January.
Donington-le-Heath Manor House would close two days a week and from November to mid-February, and the Record Office would not be open on Fridays from January 2012.
The council is looking to save £82m across all services over the next four years.
The council's cabinet will vote on the proposals on 26 July.