Julie Bradshaw completes Manhattan Island swim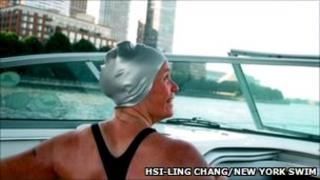 A British charity fundraiser has become the first documented woman to swim around Manhattan Island, New York, using the butterfly stroke.
Julie Bradshaw, 47, from Loughborough, Leicestershire, completed the 28.5 mile swim in nine hours, 28 minutes and 37 seconds, on Saturday.
A lightning storm stopped her previous attempt at the swim in 2004.
The Loughborough University lecturer was awarded an MBE in 2006 for services to swimming and charity fundraising.
Sponsorship for her latest swim will be donated to Rainbows Children's Hospice in Loughborough.
'Amazingly warm'
Ms Bradshaw was participating in the Manhattan Island Relays - a race which follows an anti-clockwise route around the island, taking in the Hudson, Harlem and East rivers.
Her swim was the first documented butterfly-like circumnavigation by a woman since organisers NYC Swim began keeping records in 1993.
Ms Bradshaw said: "When I hit the Hudson it was really, really rough. There was quite a lot of southerly wind and it actually whipped the water up, so the last 14 miles was a big, big struggle," she said.
The swimmer is no stranger to open water - she first crossed the English Channel as a 15-year-old - but said the New York event was quite different to UK events.
"The water was amazingly warm, it was as warm as a swimming pool at points - it was at about 80 degrees," she said.
"Usually it's the cold that's the problem - you put grease on. This time it was about having sunscreen on and making sure you didn't get burnt to death."
She said the key to her success was "a positive mental attitude".
Ms Bradshaw is already preparing for her next challenge - in August she will aim to use the butterfly stroke to swim the the length of the River Humber in the north of England.
Correction 21 July 2011: This story has been amended after a previous version wrongly stated that Ms Bradshaw's swim had been recognised as a world record.