Leicester Royal Infirmary praised over hip care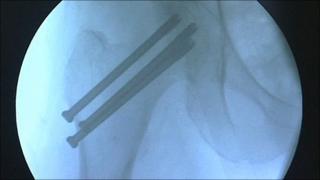 A new report has praised Leicester Royal Infirmary for its treatment of hip fracture patients.
The National Hip Fracture Database found 72% of people were operated on within 36 hours of admission - higher than the national average of 61%.
Evidence suggests that the sooner patients reach theatre, the quicker they are discharged and the less likely they are to suffer from complications.
The hospital used to have some of the longest waits in the country.
In 2009 and 2010, only 25% of hip fractures were operated on within 48 hours.
Elderly patient Joyce Charnley, who injured herself in a fall, had her fractured hip repaired within 24 hours of her going into Leicester's Accident and Emergency unit.
"It shook me up because I felt the thud and I heard the thud, so I knew something nasty had happened," she said.
Dr James Reid, from the infirmary, said: "When a frail older person is lying immobile in bed the higher the risks of chest infections, blood clots and pressure sores."
'Incentive payments'
Consultant orthopaedic surgeon Jason Brayrooke admitted incentive payments from the government had accelerated the change.
"We've implemented hip fracture lists over weekends, on both Saturdays and Sundays, to make sure patients get to theatre within 36 hours," he said.
The Leicester hospital said it hoped to get more patients seen quicker for the common, serious and costly condition in the coming years.
Reports from NHFD are released annually on how acute trusts are performing.