Cottesmore saved by plan to host new Army brigade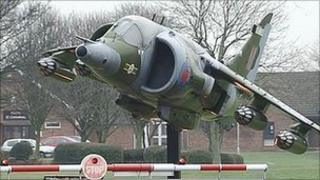 A military base in Rutland has been reprieved as part of a major review of the UK's armed forces.
Cottesmore was due to close in March 2012 and had already had its Harrier aircraft squadrons withdrawn.
It had been feared the loss of more than 1,000 jobs would have a serious impact on the local economy.
But Defence Secretary Liam Fox has announced plans for it to be the base for one of five of the Army's Multi-Role Brigades (MRB).
The reorganisation will see 20,000 personnel return to the UK from Germany.
The Ministry of Defence (MoD) said that although other bases would be used by the east of England MRB, it would be centred on Cottesmore.
Neil Allison, from the Save RAF Cottesmore campaign, said: "While we have campaigned to keep the RAF jump jet force operating from Cottesmore, any military use of the base has got to be good for the area, the base, the local community and everything we based the campaign on.
"So we are absolutely delighted to hear this."
RAF Cottesmore opened in 1938 and during the 1960s was the base for nuclear capable Vulcan bombers. It was the home of the Harrier aircraft until 2010.