Older drivers offered road course in Leicestershire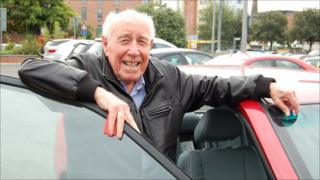 An 87-year-old, who learned to drive in a World War II jeep in the 1940s, is urging older motorists to take a course to brush up their road skills.
Geoffrey Williams, from Croft, Leicestershire, said taking an assessed drive with an experienced instructor had boosted his confidence.
"I felt that when you get to my age you think you're a good driver but you're not sure," he said.
The one-to-one course for people over 60 is run by the county council.
The one-hour session costs £25 for Leicestershire residents. At the end of the assessment, which is tailored to the individual, drivers receive a certificate and a written report.
Mr Williams' instructor gave him feedback about leaving more time to overtake lorries while on the motorway, so the other driver will be fully aware of what he is doing.
"I hadn't thought of it in quite that way, although I should've done as at one stage I was involved in HGVs," he said.
"It does give you a lot of confidence if the instructor turns round and says: 'Yes, you're doing very well' or 'you could improve here'.
"But then of course there's the fear the instructor's going to say: 'You shouldn't be on the road old son'."
Mr Williams passed his driving test in 1950, at a time when there were far fewer cars.
"There is quite a crowd on the road today. In those days you could toddle around and if you saw another vehicle you were rather surprised," he said.
He still regularly uses his car, travelling around the local area and further afield - to London, Portsmouth and Exeter - and the only reason he now drives less than he used to is because of the rising cost of petrol.
The veteran said he feels it is unfair to group all older drivers into one category.
"There are some that perhaps at 70 who are not good drivers, nor ever have been, and there are those who are older than that who are quite reasonable," he said.