Cottesmore Amateurs FC's future threatened after fire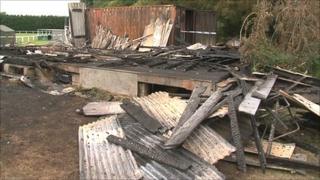 A Rutland football club said it could be forced to withdraw from competitions after a suspicious fire in its wooden pavilion.
The fire at Cottesmore Amateurs FC destroyed the changing rooms and the garage used to store items such as goalposts and two £10,000 mowers.
It could cost more than £80,000 to repair the damage, which also includes the generator for the flood lights.
Police have been investigating what caused the fire on Sunday evening.
Manager Steve Duffy said he does not want the club's 70 years of footballing history "to go up in smoke".
"We've worked so hard, some of the lads were nearly in tears when they saw the damage," he said.
"What we have left are two large fields and a set of strips."
He said he was "shocked" and "devastated" that someone might have deliberately burned the club's buildings.
"We've lost everything - all the posts, all our training kit and equipment, corner flags and footballs," Mr Duffy said.
"As a club we don't have any money, any sponsors, the lads pay to play. I don't know how we're going to move forward financially."
Chairman Allan Westray, 70, who has been involved with the club for 50 years, said the buildings and its contents were not insured because they could not afford the premium.
"I would like to think that we will survive and continue as a club, but at this point in time it's very much in the balance," he said.
Mr Westray added Cottesmore Amateurs FC, which has two senior, a veteran and an under 18s team playing in various local leagues, could play at the weekend if the pitches were mowed and if they had goalposts and footballs.