Scraptoft Hall becomes target for vandalism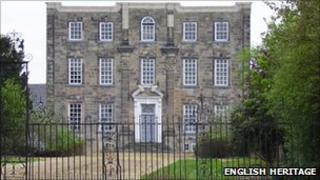 Police in Leicestershire are urging parents to warn their children about the dangers of trespassing in the grounds of a vacant listed building.
Scraptoft Hall has Grade II* listing and is owned by a property developer but has stood empty for several years and has become a target for vandalism.
PC Emily Dickens from Leicestershire Police said more than 20 young people had received letters about trespassing.
PC Dickens added the site was extremely dangerous for children.
'Fatal' fall risk
"There have been numerous fires and reports of stones being thrown, windows being smashed and other damage occurring to this historic building," said PC Dickens.
"Some youths have also been on the roof and the building has been a regular target for arson. It is unclear how stable the structure is which could prove fatal if they fell through the roof."
Between 10 April and mid-May, four arson attacks on Scraptoft Hall were reported.
"The landowner has confirmed to police that no-one has permission to use the site for fishing or any other activities and anyone found on the site will continue to be dealt with by police," said PC Dickens.
Owners AMK Planning were awarded planning permission for 103 retirement homes in March but work is on hold due to lack of funding.
English Heritage lost an appeal against the development of the site.