Leicestershire Police lists stolen goods on internet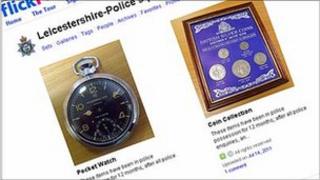 Leicestershire Police is using the internet to try and reunite stolen or lost property with its rightful owners.
The force is using photo-sharing website Flickr to post pictures of items it believes could be reclaimed.
It said it had tens of thousands of items pass through its stores every year and they could only be held for a limited time.
Unclaimed objects will sold on the eBay internet auction site and proceeds split between the police and charity.
Det Insp Paul Wenlock, Head of the Leicestershire Police Economic Crime Unit, said: "We recover tens of thousands of items each year, and in cases where the owners of the property are not known, we investigate to identify the rightful owner, reuniting people with their property which can often have sentimental value.
"All the Items, either stolen or lost, once belonged to someone. We're giving everyone the opportunity to be reunited with their property."
By law, items can be held by police for up to 12 months. If items have been evidence as part of an on-going court case, police can hold them for up to four years.
Leicestershire police already sells surplus equipment and seized goods online.