Meeting to address Biffa over 'awful smell' in Mowmacre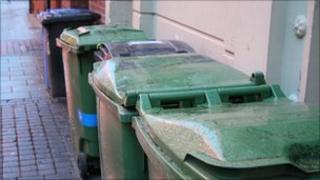 Concerned residents are meeting the owners of a Leicester recycling plant over an "awful smell" they say is coming from the site.
People on the Mowmacre housing estate said the unpleasant smell often forced them to keep their windows closed.
Waste firm Biffa said they had been working to solve the problem at the Ball Mill facility.
The smell has been discussed a number of times since the site opened in 2003.
Janet Lakin, who lives close to the plant on Beaucastle Grove, said the "vinegary" smell had been gradually getting worse.
"It's horrible. You can't even put your clothes on the line, you can't open your windows because it's there for days and days," she said.
Another resident, Pat Layton has been keeping a daily diary to monitor the smell, which she intends to supply to the recycling firm.
"On humid days you do get it quite bad.
"When it is really bad it's awful. It makes you feel sick actually."
'Mowmacre's own perfume'
Councillor Annette Byrne, from Leicester City Council, said although the problem had improved following a meeting last August, the smell had gradually returned since April.
"It did ease off a bit, it was quite nice, but now we're back to what I call 'Mowmacre's own perfume'," she said.
A spokesman from Biffa said the company had made "a major investment to try to solve the problem".
He added: "We'd like to reassure residents that we are working hard to solve the problem and will continue to make improvements to the facility to ensure any odours escaping from the site are eliminated."
The MP for Leicester West, Liz Kendall, city councillors and representatives from Biffa are expected to attend the meeting from 18:00 BST at the Tudor Centre, Holderness Road.