Bill Gates backs Loughborough University toilet scheme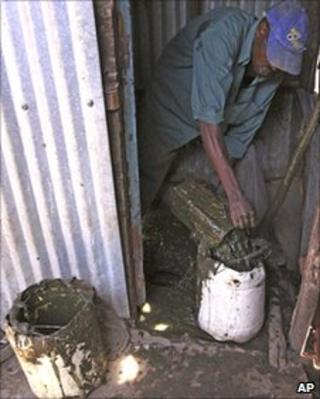 Leicestershire scientists who are planning to revolutionise the lavatory have been awarded a £250,000 grant from The Bill and Melinda Gates Foundation.
The team at Loughborough University hopes the scheme will save lives and improve sanitation across the world.
Project leader Prof Mohammed Sohail said a "stand alone system" in the new toilet would safely recycle human waste into energy instead of disposing of it.
The foundation said about 2.6 billion people cannot access safe toilets.
The Reinventing the Toilet project is part of the foundation's new multi-million pound water, sanitation and hygiene strategy, which aims to help people worldwide lead healthy lives.
Safe sanitation
Mr Sohail, professor of sustainable infrastructure at the university, said the reinvented toilet would do a lot more than the existing ones.
"We will use a process that carbonises the waste, this process will create energy and the product that comes out of it could be used for soil conditioner," he said.
"The carbonisation would convert the waste into charcoal or bio-charcoal and we've found some promising results already.
He added: "The product that comes out of the toilet is not smelly and is easy to handle like coffee granules.
"Ultimately it will be a stand alone system, which will look very similar to a normal toilet but what will be inside will be totally different."
The researcher has been working at the university's Water, Engineering and Development Centre for 40 years.
He said: "We won the funding in an international competition and in August 2012, eight teams will present to a panel chaired by Bill Gates himself.
"He has a passion for toilets because he understands that safe sanitation is such a big problem worldwide and by associating this work with a well known figure automatically raises the profile of the issue."
Mr Sohail added: "We'll definitely take advantage to try to make the new toilet more user friendly, because through our initial work, we know that some seats are not very comfortable for children, disabled and elderly people."
The Bill and Melinda Gates Foundation is a philanthropic organisation set up by the Microsoft founder and his wife.