Leicester residents asked about plans for 20mph zones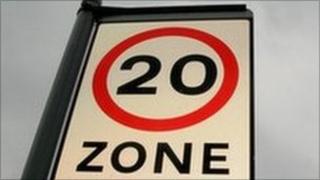 People living in six areas of Leicester are being asked for their views on plans to reduce the speed limit to 20mph.
Leicester City Council is planning to introduce the new zones early in 2012.
The city currently has 231 streets with a 20mph limit and the new scheme would add another 114 streets covering 16 miles (26km) of highway.
The areas include Belgrave West, Cottesmore Road, Tudor Road, Westcotes, Western Road and Willow Brook Road.
'Quality of life'
The city council website contains details on the plans and how to comment, a spokesman said.
Councillor Rory Palmer said: "Reducing speed limits from 30mph to 20mph in busy residential areas helps improve road safety for pedestrians and cyclists.
"Reducing the speed of vehicles can have a very positive impact on the quality of life for local people and their community," he said.
The authority has studied a similar scheme in Portsmouth which has a 20mph speed limit on 95% of its roads.