Leicester drivers warned not to park illegally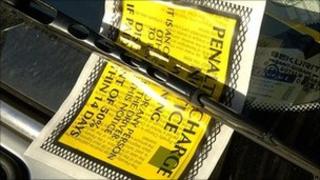 Police and council officers are warning motorists not to park irresponsibly at the weekend in Leicester.
Leicestershire Police and Leicester City Council said they would not tolerate illegal parking from Foxes fans or Summer Sundae festivalgoers.
At the football match between Leicester City and Real Madrid two weeks ago, 14 fixed penalty fines were issued.
Insp Siobhan Ashford, from the Hinckley Road unit, said any offending vehicles "will be ticketed or towed away".
'Clear and simple'
She said she wanted people to be "mindful of the inconvenience to local residents".
"Our message is clear and simple, do not park illegally or anywhere that will inconvenience others," Ms Ashford said. "Or I would recommend using public transport instead.
"We will be happy to assist the local residents in showing a united front against those who think it's acceptable to inconvenience others just to save a few pounds that could have wisely been spent on a car park."
Andrew Thomas, head of traffic management at the council, said there were two reasons why there were parking restrictions in Leicester.
"Firstly, the safe and effective management of the traffic and the second one is for the amenities of the people who live around the restrictions, both of those are equally valid in law," he said.
"Parking on double yellow lines and blocking the corners is dangerous, so in the event of anything happening an ambulance or fire brigade can't get down there."