Leicester rioters face city centre shop and bars ban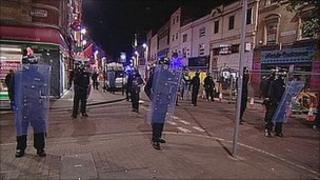 People convicted of being part of disturbances in Leicester are to be banned from bars and shops.
Violence broke out on 9 August across the city centre, with a range of shops and offices damaged.
Now City Watch, which has 250 members, will distribute photos of known offenders who can be arrested for trespass if they breach the ban.
Police said 89 people had been arrested and 55 charged, in connection with the violence.
Dick Pollard, from City Watch, warned culprits they faced tough action.
"There will be [more] people it is going to happen to," he said.
"These people... will be getting a visit from police with an exclusion order and you will be banned and excluded from these stores and nightclubs."
The scheme is being run in conjunction with the police and city centre managers.
On Monday, police ended the use of special powers which had allowed them to stop, identify and remove from the area people they believed might become involved in trouble.
Senior officers said this was a sign the city had "returned to normal".