Consultation starts on Leicester hospitals parking fees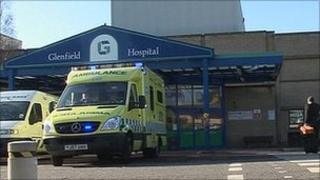 A consultation is under way on proposals to increase parking charges at Leicester's hospitals to help tackle an £8m overspend.
Some parking fees could more than double as the University Hospitals Trust looks to boost income.
The trust, which had a crisis meeting last month to discuss the overspend, has estimated the changes could generate an extra £500,000.
Members of the public have until 18 September to give their views.
Online survey
The trust said most charges were not doubling and a four-hour stay would remain at £4. Daily, weekly and monthly discount schemes would also continue.
Director of strategy, Dr Abi Teirney, said: said: "We want to make sure we get the right balance between not using patient money to pay for car parks and not charging a fee which is too high for our patients.
"That's why we are asking you, the people we serve, what you think about our proposals.
"Although we have not increased the fee for many years we have continued to invest in car parks and improve access to our hospitals. This means we now find ourselves using money that could be spent on patient care to cover that cost."
Members of the public can either complete an online survey or visit one of the car park offices.