Happy cows: Leicestershire diary farmer turns to robots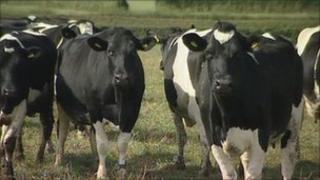 A Leicestershire dairy farmer is hoping a state-of-the-art robotic milking system will help improve the production and health of his herd.
Trevor Griffin, 37, who runs Middlefield Farm near Hinckley, spent £200,000 to install new equipment.
The cows enter the milking sheds where they are scanned by the robots and milked without any human assistance.
"I expected the cows to be more awkward than they are but they seem to have taken to the new system," he said.
His 120 cows are also fitted with pedometers on their front feet to help predict when they are ready to breed.
He said that the farther they walked the more likely they were to be in heat.
Vet's bills
The farm received a grant for 30% of the costs of the equipment from the Department for Environment, Farming and Rural Affairs.
He said the new system is very efficient: "They walk into the robot and it scans their pedometer to get their identity and uses laser tracking to put the actual milking machine (units) on their teats - and then disinfects them."
"Some cows come to the robots five times a day as they decide for themselves when it is time to be milked," he added.
He also looks at the pedometer records to see if the cows need medical assistance as the distance they walk can pinpoint if they are lame or not.
"The theory behind it is that it should help reduce the vet bills considerably - you will know a lot earlier if there is an indication of health problems such as mastitis and it should flag up signs earlier so you use less antibiotics."
Mr Griffin said he received texts from the robots if there was a problem with the machinery.