Leicester riots: New CCTV images are released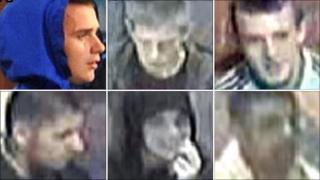 New images of suspects wanted in connection with disorder in Leicester have been released by police.
On 9 August groups moved through the city, causing extensive damage to shops and businesses and confronting police.
So far 31 people have been arrested over those incidents and a further 59 people have been arrested since extra patrols were deployed.
Officers appealed for anyone who recognised those in the new CCTV stills to get in touch immediately.
A total of 56 people have so far been charged over the disturbances, 22 of these in connection with the violence on 9 August.
During the weekend the Indian Workers Association of Leicester invited politicians, police, school and local religious leaders to an event to discuss the problems.
Police said they were working their way through large amounts of CCTV footage and anticipated releasing more images in the future.