Fire-hit Leicester Hindu temple in Midland Bank move plan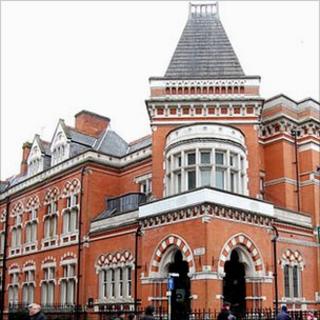 Members of a Hindu temple in Leicester which was badly damaged in a fire are hoping to move into a Grade-II* listed building in the city.
A third of the Hare Krishna temple on Thoresby Street was damaged in a gas explosion in September 2010.
The blast happened after one of the biggest festivals in the Hindu calendar. No-one was seriously injured.
A planning application has now been submitted for the old Midland Bank building on Granby Street.
Pradyumna Das, from International Society for Krishna Consciousness (ISKCON), said English Heritage, conservationists and planners were "not adverse to it becoming a place of spirituality and community".
"If you didn't know it was a bank, you'd probably think it was a place of worship of some sort, primarily because of the way it's constructed - the elegance and grandeur of it."
He said their "vision" for the building would be to convert it into a "multi-purpose centre".
"Not only in the Hare Krishna context, but to have a restaurant to promote healthy eating and vegetarianism, yoga, mediation classes on a regular basis, different seminars on self-development and education and so on."
The temple was left unusable by the blast and has had to hold events and weekly congregations around the city for the past year.
"It's been nomadic moving around, we've been hiring hall space for Sunday meetings and festivals," Mr Das said.
"We're renting a house where our shrines and deities are being kept and worshipped and with them in a house we can't and haven't been able to do regular daily or weekly observances that we have during our calendar."
Mr Das said devotees, who would be celebrating the birth of Lord Krishna - Sri Krishna Janmashtami - for the first time without a permanent residence, had been on a "mission to get ourselves back on our feet".
"In many ways it's brought the community together.
"It's created a certain spirit of resilience, a certain sprit of enthusiasm and the spirit that we're not going to do the easy thing and cancel festivals and particular observances, but we'll find the right place to worship."
This year, the temple's followers will be celebrating Sri Krishna Janmashtami at the Leicester Colosseum on Melton Road.