Loughborough burglar victim talks about attack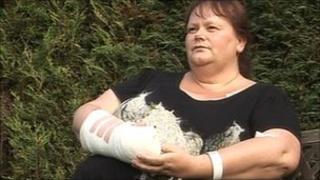 A woman who was stabbed twice while defending herself against burglars at her Loughborough home has said she thought she was going to be killed.
Lisa Waring was stabbed in the stomach and back, and slashed across her chest. She said she almost lost three fingers by grabbing her attacker's knife.
The 44-year-old told BBC Radio Leicester she disturbed the burglars in her garden on Cotton Way on Monday.
She will need reconstructive hand surgery after the "horrifying attack".
'Totally numb'
Mrs Waring, who had her two young children in the house when the attack happened at about 11:00 BST, said she was still feeling "totally numb" and coming to terms with what happened.
"I went out to the shed outside, where my tumble dryer is, to take some washing in," she said.
"A man confronted me from behind the door and there was also one behind me, he attacked me.
"He slashed at my chest and I thought he thumped me in the stomach, but it turned out that he stabbed me.
"I grabbed hold of the knife because he was trying to do it again and it's severed three fingers.
"It really didn't sink in what was happening. When he started attacking me I was terrified, I thought he was going to kill me."
The two men, who had stolen a laptop and a circular saw, ran away from the house dropping the family's belongings.
Mrs Waring said the the two white men were between 20 and 30 years of age. One was wearing a black hoody and the other was wearing a grey hoody without sleeves.
She added that one of the burglars spoke in an Irish or Scottish accent.
'Despicable offence'
Her husband Paul Waring said he was "shocked" and "devastated" that his wife was attacked at home.
"If you're not safe in your own garden where are you safe?" he said.
Insp Johnny Monks, from Leicestershire Police, said they had "committed a huge amount of police resource" to the investigation for the "despicable offence".
"Officers are speaking to local businesses and people who live locally," he said.
"Scenes of crime officers are looking at every forensic opportunity to try and bring these two individuals to justice."