Leicestershire mother wins speed camera campaign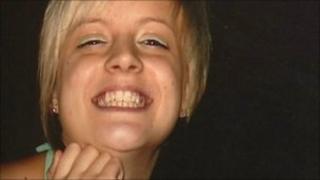 A Leicestershire mother has won her campaign to have an extra speed camera installed near the collision blackspot where her daughter was killed.
Three years ago, Julie Holwell, 45, from Mountsorrel, lost her 20-year-old daughter in a road crash on the A6.
Becki Holwell was a passenger in the car being driven by her boyfriend, who lost control on the road towards the One Ash roundabout near Loughborough.
The local Road Safety Partnership said it would be installing the camera.
Ben Crossley was jailed for two years after he admitted causing the death of Miss Holwell by careless driving, at Leicester Crown Court.
Campaign fails
After her daughter's death, Mrs Holwell campaigned for increased road safety on the A6 between Loughborough and Quorn.
She said she had delivered a 1,900-name petition, in support of having cameras, to Leicestershire County Council.
Mrs Holwell told them: "This is going to happen again, something needs to be done on this road.
"Only a speed camera will stop them."
Mrs Holwell's campaign to have a fixed speed camera was initially rejected in 2010. She said she was told by the county council that speeding on the road was not serious enough to justify it.
Ian Drummond, the council's assistant director and chairman of the Leicestershire and Rutland Road Safety Partnership, said: "The installation is guided by strict government criteria.
"Earlier accident studies on this stretch of the A6 resulted in new safety measures, including a 50mph speed limit."
The county council said it had relined the road and laid anti-skid surfacing shortly before the 20-year-old was killed in 2008.
'Very dangerous'
Mrs Holwell said the road was still "very dangerous" and further deaths and crashes had happened after the safety measures were carried out.
"Some people approaching the roundabout are still speeding," she said.
"They slam on the brakes as they get there - that's not a safe way to drive."
Mr Drummond said: "People are still driving too fast, we've decided to install a fixed speed camera as part of this year's casualty reduction programme."
Mrs Holwell welcomed the decision and said she did not want another family to have their "heart broken".
"The thought of it being three years ago since I last spoke to or saw Becki is just heartbreaking," she said.
"The night that Becki was killed, my life ended as well."