Row as Leicester mayor re-employs redundant Mark Noble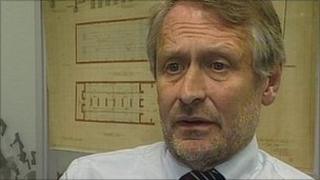 The decision to re-employ a senior Leicester City Council officer, just weeks after he took redundancy, has been criticised.
Chief Finance Officer Mark Noble left in May as part of major savings at the authority but he has been brought back by the directly-elected mayor.
Unison said the move sent out "entirely the wrong message".
But Labour's Sir Peter Soulsby said Mr Noble was on a short-term contract to help plan further savings.
The city council is expecting to make £82m in cuts, by 2015.
Mr Noble received tens of thousands of pounds in redundancy when a number of senior posts were cut.
'Excellent value'
But he has now returned on a six-month contract.
Mike Brown, of Unison, said: "I think the message it sends is that while lots of people are worried about the future, about whether they will have jobs with the council, it seems on the surface that senior managers can leave then return at a later date.
"It sends entirely the wrong message to the workforce as a whole."
But Sir Peter said Mr Noble was returning on 75% of his previous salary.
"I think if this particular, very valuable, finance officer were to be coming back as a highly paid consultant on an enhanced salary, then people would be understandably be doing more than raising eyebrows, they would be outraged," he said.
"I believe in fact what I am getting represents excellent value for the council, ensures I get the advice and support I need and puts right what I find an astonishing decision, which was the decision to make him redundant in the first place."