Leicester people angry over former GCR demolition plans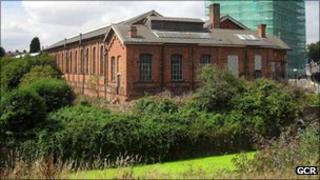 Plans to demolish one of Leicester's historic buildings have been criticised by some people living in the city.
An application to knock down Great Central Railway's former wagon works on Upperton Road has been submitted to the Leicester City Council.
Locals say the building is historically important because there are very few remaining in the city with a complete structure from the Great Central era.
Architects RG+P, which owns the site, was unavailable to comment.
It is thought the Leicester-based firm is planning to develop the site into several different uses, including student accommodation.
'Local interest list'
Leicester Civic Society chairman Stuart Bailey said the building is on the "local interest list".
"It's important to the city and one of the few surviving structures with a connection with the Great Central Railway, which is important to Leicester's industrial history," he said.
"We're all in favour for new uses for old buildings but not demolition and loss."
The council has received more than 80 objections to the proposed demolition.
Councillor Andy Connelly said: "Residents are not interested in more student accommodation, they want to keep the building."
He said he would try to do "everything to protect it and keep it".
Local heritage campaigner Karen Green, who chained herself to the Bowstring Bridge in 2009 to stop it from being bulldozed but failed, said she could take a similar action to block the demolition and preserve the city's heritage.
"This is old Leicester, it's beautiful, original and historic and it must be preserved," she said.
'Sense of belonging'
"It is important that this building is saved.
"A sense of belonging to the people who live and raise their families in this city and don't just come here to study should be catered for too.
"Yes it's shabby and dirty, but it's over a 100 years old. With a little love, care and inspiration, it could go a long way and serve the community."
Mr Connelly added: "Whatever we think about what happened to the bridge, there's going to be a leisure centre there which local residents will be able to access."
The application will be discussed by the city council's planning committee no earlier than October, but a date has not been set.
A change in law in March meant that all demolitions now require planning permission.