Man thought Leicester robbery arrest was 'big joke'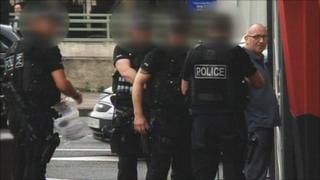 A man who was wrongly arrested by armed police after a robbery at a Leicester building society has said he thought it was "all a big joke".
Leicestershire Police handcuffed Neil Evans, 47, on St Nicholas Place after the robbery at Nationwide in Horsefair Street at 17:00 BST on Tuesday.
Mr Evans, of Neath, south Wales, said he had gone to get something from his car and minutes later was arrested.
Leicestershire Police said they had apologised to Mr Evans.
Mr Evans, who was working as a shop-fitter in Leicester, said he had gone to his car for his mobile phone charger when he noticed a helicopter in the sky.
He said he watched the police helicopter, which was being used to search for the armed robbery suspect, for about 10 minutes.
'So surreal'
"I walked a bit further, two 4x4 police cars drove up towards me and parked right by the side of me.
"I just stood there and looked. It must have been about 30 seconds or more before they got out.
"They started screaming 'hands on your head, hands on your head', I took one look, looked round to see if it was me they were talking to or someone else behind me and obviously it was me," he said.
Mr Evans said he was then told he was suspected of the robbery.
"It was so surreal, I thought this isn't happening," he said.
"They handcuffed me, dropped me to my knees and went for my pockets.
"There was another police officer with a Taser shouting, 'if you move again I'm going to put 10,000 volts through your body' and by that time I was starting to get really worried," he said.
Mr Evans said he told officers he was in a shop buying shaving foam at the time of the robbery and had a receipt in his pocket and would have been on CCTV there.
"They didn't look at that at all, it was just put in an evidence bag with my stuff and locked away in a locker."
He said he was finally told he did not fit the description of the suspect, a man in his 20s or 30s with blond hair, and was released the following day at 11:15 BST.
"I'm really bitter about it," he added.
"I know the police have got to do their job and get this person off the streets.
"They just opened the cell door, gave me my stuff, fair play they gave me a lift back, but there was not one apology from the custody sergeant or CID."
In a statement Leicestershire Police said: "Officers have apologised to Mr Evans and explained the circumstances surrounding his arrest.
"It was unfortunate but based on the information we had at the time.
"We can confirm that no further action will be taken against Mr Evans."