Leicestershire County Council's art sold for £170,000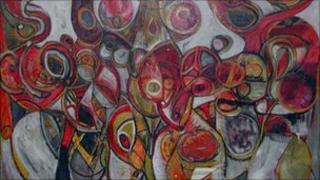 More than £170,000 has been raised by selling off artwork owned by Leicestershire County Council.
A total of 318 pieces of art have been auctioned off so far and 12 more items are due to be sold on Tuesday.
The authority said the money raised from the sales would be reinvested in its museum service.
The Conservative-led council is aiming to cut £79m from its budget over the next four years.
'Tough economic climate'
The paintings, sculptures and drawings were originally purchased for use in schools between 1970 and 1990 and have been in storage since they were returned.
David Sprason, the county council's cabinet member for Adults and Communities said: "Like the rest of the country, we are experiencing a tough economic climate at present and are continuing to investigate different ways in which we can save money.
"The council is only disposing of items of artwork that have been identified as surplus to requirements by schools. The money realised from these sales will go directly towards supporting Leicestershire's arts and heritage service."
The council said the highest amount raised by a single painting so far was £16,000 for an oil on canvas by the late Avinash Chandra.