Leicester school rejects pupil who lives on same road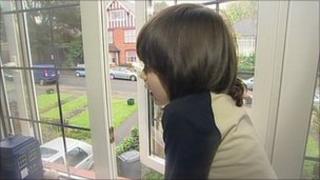 A five-year-old boy from Leicester has been told he cannot go to a school less than a minute's walk from his house.
The parents of Charlie Cooper, from Aylestone, had expected him to attend Montrose Primary School which is across the road from their home.
But their application was turned down, as the school's catchment border runs down the middle of the street.
The situation has prompted Mayor of Leicester Sir Peter Soulsby to start a review of city catchment areas.
Charlie's mother Louise Cooper said the family had been shocked when they were given the news by Leicester City Council last spring.
'Absurd and perverse'
"We thought we would be fine. We just couldn't believe it when we heard he wasn't allowed to go to Montrose," she said.
"It was ridiculous. We would open up the curtains and see everyone taking their children to the school. We felt we had to shelter Charlie from what was going on.
"It all felt a bit embarrassing and awkward. I spoke to so many other parents and neighbours who agreed it was an absurd and perverse decision."
Charlie's father, Andrew Cooper, decided to teach him at home for a year while he and his wife attended two appeals in a bid to convince Leicester City Council to reverse its decision.
But after losing both hearings, the exhausted pair decided to apply for Charlie to attend a different school more than three miles away.
Ms Cooper said: "After losing the second appeal we felt like we had used up all our resources - we felt sapped of energy.
"We found another school we liked the sound of and decided to go ahead with applying for Charlie's sake. He started there last Thursday."
Sir Peter became aware of the case while in his former role as Labour MP for Leicester South.
'Shocking and disgusting'
This week he announced an urgent council review into city school catchment areas to try to tackle about a dozen similar situations.
"Councils are supposed to review their primary school catchment areas on a regular basis - most do it every year or every couple of years," he said.
"Astonishingly, Leicester has taken over 10 years since its last review and, as a result of that, a number of anomalies have arisen.
"I've set about having a full review of all of the catchment areas across the city so that by this time next year, not only will things be sorted out for little Charlie they'll also be sorted out for similar children in similar situations across the city."
Sir Peter said he was hopeful Charlie would be able to join Montrose Primary at the start of the next school year if his family still wanted him to.
Ms Cooper said: "It is shocking and disgusting how we've been treated but thankfully today it seems our hard work has paid off and this will benefit all families in Leicester."