Kasabian play secret Bruntingthorpe Aerodrome gig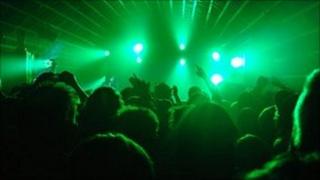 Kasabian fans have been treated to a secret gig on a plane in Leicestershire.
The band played to a crowd of 200 on a disused Boeing 747 at Bruntingthorpe Aerodrome on Monday.
Fans, who received tickets after entering a ballot, were told to meet in the city centre and were then taken by bus to the aerodrome.
Kasabian played an hour-long set which included songs from their forthcoming album, Velociraptor!.
"You definitely knew you were on a plane with the sloping ceilings and the traditional oval windows," said BBC Radio Leicester's Rebecca Bryers.
"Inside the atmosphere was electric and a huge cheer went up as the band took to the stage."
One of the fans at the gig said it was "the best plane ride I have ever had".
'Pretty weird'
Kasabian will set off an a UK tour in November but, speaking ahead of the performance, lead singer Tom Meighan said he loved smaller gigs.
"We can play the arenas or really tight punk rock gigs," he said.
"I prefer these gigs when people are dead close to you and you get a real feel."
Guitarist Serge Pizzorno added: "The opportunity to play in a Boeing 747 doesn't come along very often.
"The fact that it's in our hometown of Leicester makes this really special for us."
The event was filmed and will be put online.
Kasabian's fourth studio album, Velociraptor!, will be released on 19 September.
The rockers are best known for hits including Fire, Shoot The Runner, Empire and Club Foot and chart-topping albums Empire and West Ryder Pauper Lunatic Asylum.