Public meeting on the future of Leicester's care homes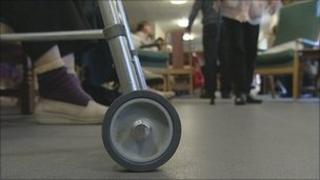 A second public meeting is being held into plans to close council-run care homes in Leicester.
Earlier this year, the city council announced it wanted to shut six of its eight care homes to cut costs.
The council said it needed to close the homes because more elderly people were choosing to remain at home or live in supported housing.
The original consultation was extended until 26 September by the city's new mayor, Sir Peter Soulsby.
He said suggestions put forward by the public needed to be explored.
Dr Michael Pepperman from Leicester LINK, Local Involvement Network, said: "It's been a progressive engagement with the public and the first consultation meeting that we held highlighted very clearly that users of the service didn't feel that they had an opportunity to consult properly with the city council.
"The most important element of tonight's meeting will be listening to the views of people that attend."
The homes earmarked for closure include Arbor House, Elizabeth House, Herrick Lodge, Cooper House, Nuffield House, and Thurn Court in Thurnby Lodge.
Two of the homes - Abbey House and Preston Lodge - would stay open for short stay and respite care. The other six are expected to close over the next five years.
The meeting takes place on Wednesday evening at the Tudor Centre in Mowmacre Hill, Leicester.