Construction skills academy for apprenticeships opens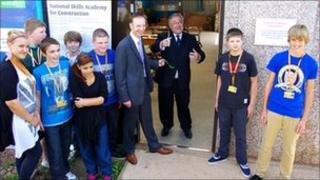 A new construction skills academy course, claimed to be the first of its kind, has officially opened in Leicestershire.
The new department at Bosworth Community College was set up by Leicestershire County Council on behalf of the Midlands Highways Alliance.
It will take more than 40 students on a construction apprenticeship.
Leader of the county council, Councillor David Parsons, said the unit was "unique".
"With its 40 apprenticeships it's the first one of its kind in the country.
"We need these skills to restart the economy," Mr Parsons said.
"Bosworth are taking this on and Leicestershire County Council are sponsoring this with local construction industry representatives.
"One in six people working in the construction industry doesn't have a qualification, so what we're doing is to get young people qualifications so that they will actually go on and get jobs in the construction industry locally."