Leicester scam man CCTV released by trading standards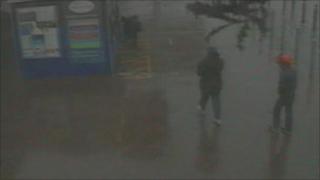 CCTV images have been released of a man suspected of forcing a Leicester woman to hand over £250.
Two men knocked on the woman's door and pressured her into agreeing to garden work she did not need, Leicester Trading Standards said.
She was then driven to a cashpoint in Hamilton where they forced her to withdrew the money on 6 September.
She told investigators that she was first informed by the men that the work would cost only £110.
Orange bag
Trading Standards have released the CCTV footage of a person they want to speak to about the incident.
The woman, who has asked to remain anonymous, told police that she was told the cost was £300, but her withdrawal limit was £250.
The man shown in the CCTV image was white, in his 30s, of thin build, with dark hair and wore a leather jacket.
It appears on the CCTV that he was wearing an orange plastic bag over his head.
Trading Standards manager Ron Ruddock said: "This incident has caused the victim a lot of stress… unfortunately this rogue tactic is one that is well known."