Misconduct not proven for Fiona Pilkington officers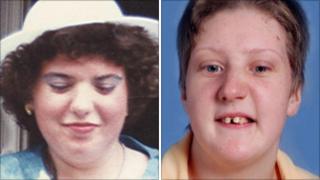 Four Leicestershire police officers have been cleared of misconduct after a woman killed herself and her daughter blaming repeated harassment.
Fiona Pilkington, 38, and Francecca Hardwick, 18, died in 2007 when Ms Pilkington set fire to their car.
The Independent Police Complaints Commission (IPCC) later said officers had missed opportunities to take "robust action".
The force said its hearings found misconduct was not proven.
Over the course of 10 years, Ms Pilkington's home in Barwell was repeatedly targeted by groups of up to 16 youngsters, with stones, eggs and flour thrown at the house.
The family had complained at least 33 times to Leicestershire Police about harassment.
'Better service'
An IPCC investigation in May found the family should have been identified as "vulnerable" and that officers "missed several opportunities to take robust action".
Speaking after its hearings, Deputy Chief Constable of Leicestershire Police, Dave Evans, said: "The misconduct meetings have now been completed.
"The findings for the four officers was that misconduct was not proven.
"The organisation as it was seven years ago is completely different compared to today.
"Significant resources have been put into both neighbourhood policing and safeguarding and tackling anti-social behaviour is a top priority.
"The conclusion from the misconduct meetings were that failings were of an organisational nature due to the systems and processes in place at the time not enabling officers to provide the most effective service."
Mr Evans said the tragic deaths had acted as a turning point for the force in how it prioritised and dealt with anti-social behaviour.
"The Force accepted in 2007, following its internal review, that it could have given a better service to Fiona Pilkington and her family.
"In the past four years radical organisational changes have been made not just to systems and processes but in the way officers and staff think, looking not just at the incident but the victim and the wider context.
"We hope the significant changes that we have made, and continue to make, give the family some comfort and as always our thoughts are with them."