Leicester dairy boss completes Land's End challenge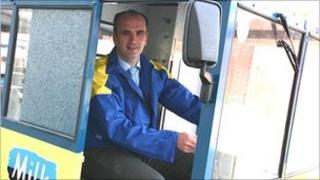 A dairy boss has raised more than £19,000 for charity by driving a milk float from his depot in Leicester to Land's End in Cornwall.
Graham Smith, managing director of Kirby & West, completed the journey on Friday after setting off on Monday.
The milk float travelled at an average speed of just 13mph (21 km/h) and required a seven-hour charge after every 40 miles (64km).
Mr Smith said he was delighted with the public's response during the trip.
Traffic jams
"I have caused some hold-ups, but we've had very few people having a go at us," he said.
"We've had an awful lot of people 'pipping' us in encouragement and I am so grateful to my customers and suppliers because we have managed to raise over £19,000."
Mr Smith said one highlight of the trip was passing Stonehenge at a pace he could see it.
The challenge was part of this year's Thomas May Executive Quest - an event which challenges 50 leaders from Leicestershire and Rutland companies to undertake various bizarre fundraising tasks.
All money raised is donated to the local hospice charity LOROS and Prostaid.